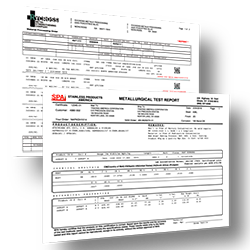 Software to Design and Generate Forms on IBM i
AS/400, System i, iSeries
TLAForms converts your traditional IBM i spool files into full-color, professional forms with no programming. Design forms using data from spool files already being generated from your IBM i applications. Our Form Monitor watches for your spool files to be generated, then automatically generates your form using data from the spool file. No programming is needed, so forms are automatically integrated with your applications, and forms can be printed to any printer on the IBM i, Network or locally-connected Windows printers. Forms can be generated as PDF documents and saved to your network or automatically emailed.
When you design a form, pick a spool file that's already being produced by your applications.
You can use many fonts, a full complement of bar codes including 2-Dimensional symbols QR Code, PDF-417, DataMatrix and Maxicode. You can use data from the spool file and data from your IBM i files – All in Full Color!
Use our SQL tool to create an SQL Statement to get data from IBM i files, or use your own custom SQL select statement.
You can also use Actions. Actions do all kinds of cool stuff, like email your form if you have an email address, or print the form if you don't have an email address. Check out the video below to see what actions can do!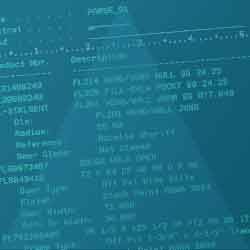 TLAForms monitors your spool files, and automatically generates your form.
No Programming!
ACTIONS
Actions give you the power to add conditioning to your forms, like show a barcode on page 1 only, or email the form if you have an email address, but print the form if there's no email available.
SQL
You can create SQL statements within the designer to retrieve data from your IBM I files using our SQL tool, or use your own custom SQL Select statement. Check out the video to see just how easy it is to use SQL in TLAForms.
Forms are printed to any printer connected to your IBM i, the network or locally-connected Windows printers. Forms can also be generated as PDF documents, and the PDFs can be automatically saved to anywhere on your network and/or emailed automatically.
It's easy to BURST your spool files. For example, if your single spool file contains multiple invoices, you can easily set up the form to burst based on the invoice number. In this case, you'll get a separate PDF for each invoice within the single spool file.
Print your forms to any printer
Print Forms to Printers defined on the IBM i, Network or locally-connected Windows printers.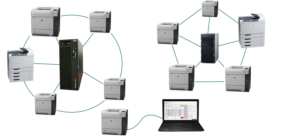 Generate your Form as a PDF
Save your form to your network and/or automatically email your form.
Some find it hard to believe, but it's true! You can design a form, and start printing, archiving and emailing your form with
NO PROGRAMMING!
It's not even magic, it's a cool application we call 'The Monitor.'
The Monitor watches your output queue for new spool files to be ready. When the Monitor sees a new spool file, it takes the data from that spool file, applies it to your form, then generates your form based on the output settings you configure when you designed the form.
BOOM!
NO PROGRAMMING!
Kolcraft gains Functionality, Saves Money with TLAForms
The forms solution Kolcraft initially purchased to work with the Friedman software nearly 20 years ago was not progressing with their needs. The yearly costs were over $3,000 and upgrades were rare. Making changes to forms was difficult and to print forms to different output queues was a "pain."
Kress Corporation Save Thousands each Year by switching to TLAForms and Barcode400
Kress Corp produces forms and labels to run their company, but felt the costs associated with it were "outrageous!" They decided to test both of TL Ashford's products – TLAForms and Barcode400. Not only did the products meet or exceed expectations, but resulted in saving several thousand dollars each year!
"Thank you all for the hard work on getting this implemented in about 72 hours, that is exciting!"
Kyle – New Albany, OH
"Please pass this along to the appropriate individual(s).  I'd like to thank you all for your assistance. I'm an old S/38 and AS/400 dog (38 years) and appreciate the awesome customer service. We are using Barcode/400 and TLAForms, both are crucial for the projects I was hired to complete."
Michael – Binghamton, NY
"New forms look great – many compliments from employees.
 Thanks!"
 Bryan
End the Scourge of Ugly Forms on IBM i
Does being mauled by a Grizzly Bear sound more fun than working with your forms? There's no longer a reason to dread forms. Read End the Scourge of Ugly Forms, and see how working with forms can be a much better experience than being torn to shreds by a grizzly bear! (3 min)
TLAForms Beats AFP Head to Head
Make your Life Easier!
TLAForms is a single, complete package allowing for unlimited users and unlimited seats. All features and functionality available for the package are included with the package.
| | | |
| --- | --- | --- |
| Seats/Users | Price (USD) | Annual Software Maintenance |
| Unlimited | $2,995.00 | $695.00 |